Tourism
Ready for those very special Xmas concerts in Porto? Be there with bells on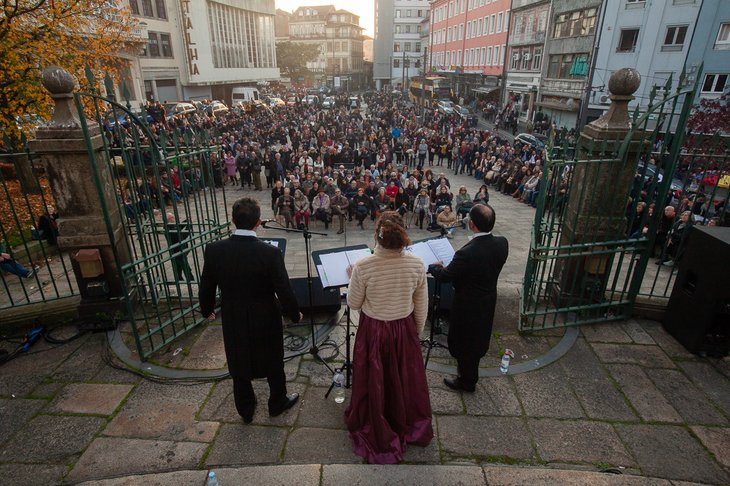 Porto can pull the most amazing events on Xmas Holidays; this year's event "Natal à Porta", freely translated as "Xmas by the doorsteps" brings back unexpected concerts in the most iconic buildings in the Invicta.
This Christmas Porto will truly shine: forget not the ceremony of the lighting of the giant Xmas Tree at Aliados, on 30th November, together with the street lighting that will make it like the Invicta is dressed in stunning sparkle, colour and able to put its own unique swirl all over town.
Kicking off on 1st December, the cycle "Natal à Porta" offers the most special concerts by the doorsteps of the city's most iconic buildings. As usual, access is free and you can rely on six concerts to brighten your Xmas in Porto, from a Capella singing to recall Xmas classics by the "PopUp - Vozes Portáteis" band, to the "Companhia Ópera de Bolso", conducted by maestro António Sérgio Ferreira.
The shows are scheduled for the first four weekends of December, always at 4pm. This event is organised by the municipal company Ágora - Cultura e Desporto do Porto.
Programme
Ópera de Bolso
01/12, Torre dos Clérigos balcony
08/12, Igreja de Santo Ildefonso staircase
15/12, Avenida dos Aliados
22/12, Torre dos Clérigos balcony
Pop-up - Vozes Portáteis
07/12, Torre dos Clérigos balcony
14/12, Praça de Gomes Teixeira (in front of the Rectory of the UP)