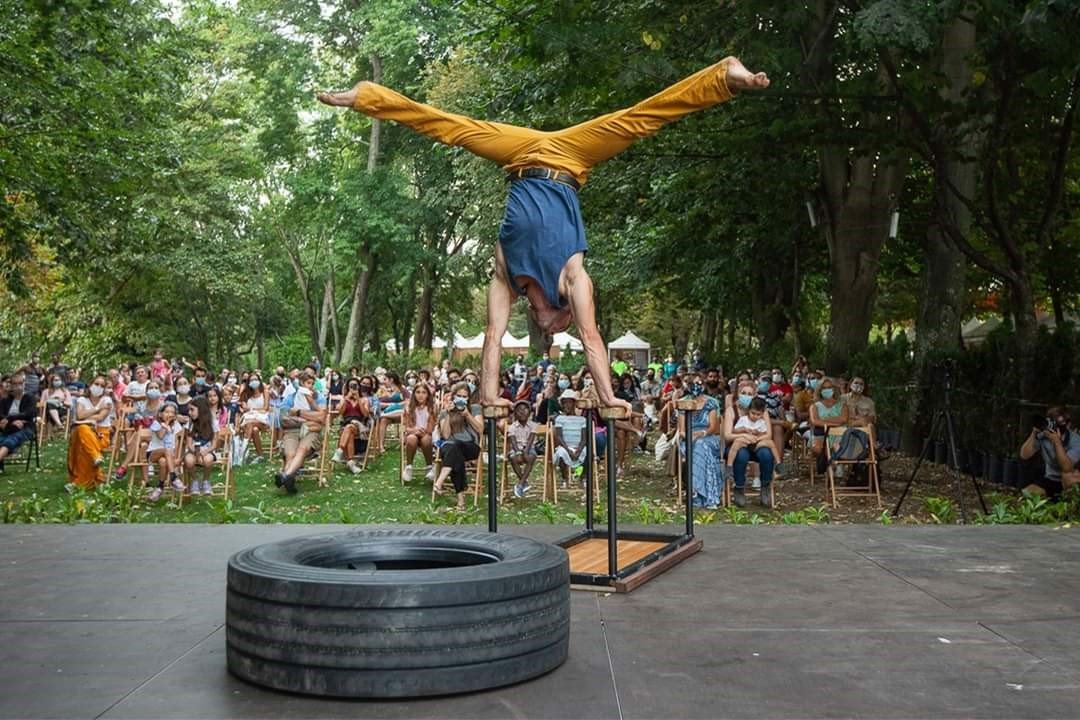 Trengolas will make you measure time in fun and joy till 26th September
16-09-2020
Trengolas cycle begun life amid the ongoing pandemic, as a way for both audiences and artists to enjoy the magic of circus arts. The final performances of this sister project to Trengo will happen on 26th September, at D. João I Square. The closing performances of Trengolas are now on 25th and 26th September, as the sessions of the 18th and 19th were postponed.
"Por um Fio" ["By a string", free translation], jointly created and performed by Daniel Seabra and Margarida Montenÿ, will put both acrobats in a continuous search for equilibrium between two bodies, using a lose string of two ends at 7 metres high.
"Any action triggers a consequence in the state of the other, and it is this dependency that makes us trust the other", states the producer company Erva Daninha, furthering that "with this performance, designed for the public space, we aim at rethinking the potentiality of something as simple, human and volatile. The value of trust and the importance of our presence in the present through this staggering aerial dance between two bodies."
The performance will be presented in two sessions, namely on 25th September, at 9pm, and the second and concluding performance of Trengolas, on 26th September, at 6pm.
What a great way to stay connected with art and culture in such estranged times. At a time when things seem so unpredictable, Porto welcomed Festival Trengo in a different format than usual, with Trengolas kicking off on 28th August and featuring 20 performances devoted to circus arts.
Some performances were included in this year's
Porto Book Fair programming
, as well as of Porto Municipal Theatre's. Thus, three iconic venues in Porto, namely the Park of São Roque, the Gardens of Palácio de Cristal and Praça de D. João I hosted literally bundles of fun.
Over 40 artists and technicians, who live in Portugal, delivered real entertainment performances and show audiences what Circus Arts are all about.
Trengo is a project by company Erva Daninha, jointly produced with the City Hall, through Ágora and Porto Municipal Theatre, and supported by the Directorate-General for Arts. It has been presented in Porto since 2016 and every year it offers numerous contemporary circus performances. Its entire programming is focused on the new circus approaches, keeping a close link to national artists.