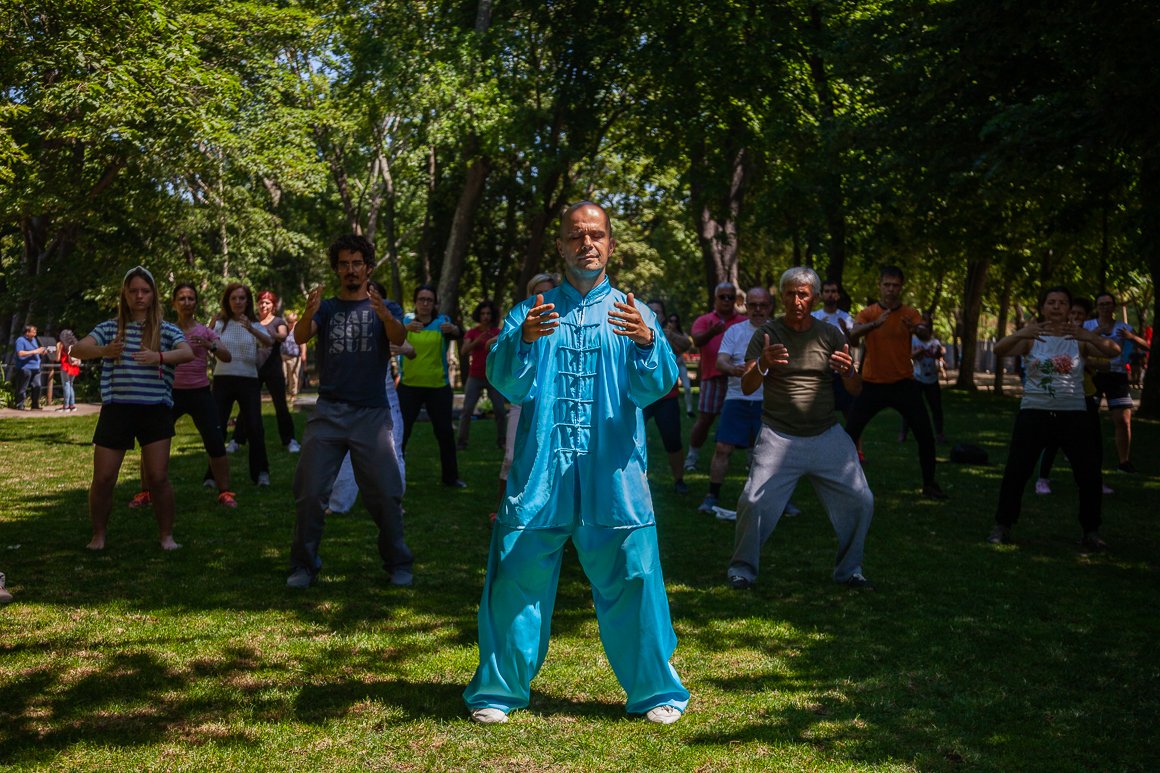 Feel good with the free municipal wellness programmes that comeback this weekend. Sign in!
09-06-2020
The programme "days with Energy" resumes this Saturday 13th June, with the double of free classes of Pilates, Yoga and Tai-chi. In addition, the comeback of the "Sundays in Shape" programme happens on 14th June, also with enhanced number of sessions and with a new timetable, as it will be held weekly, instead of every two weeks. 
In light of the current preventive measures that are in place due to the new coronavirus pandemic, this initiative is now subject to prior registration, up to the limit of 20 participants per class, so as to ensure social distancing between participants. All activities take place outdoors. Sign in.
The municipal programme "Days with Energy" will be the first to comeback, with classes starting on 13th and 14th June.
Participation in the sessions are free, previous registration is mandatory, up to the limit of 20 participants. Sessions take place outdoor, in four places in town, namely the gardens of the Palácio de Cristal, the City Park, and now also the oriental Park and the Pasteleira Park.
This extension of the wellness programme is the result of a partnership between the municipal company Ágora- Culture and Sports of Porto with the Municipal Department of Social Cohesion of Porto City Hall, under the AIIA (Integrated Approach for Active Inclusion), in the framework of the "Porto com Corpo&Alma" activity.
This innovative municipal project, supported by Portugal 2020, and the operational Programme NORTE 2020, is aimed at promoting a set of physical and leisure activities near the city's most vulnerable communities.
The activity is not recommended to pregnant women, people over 60 years old and people with chronic illnesses.
"Domingos em Forma" [Sundays in Shape] is now a weekly activity
This activity - Sundays in Shape - is now held every week, instead of biweekly. It is held every Sunday morning, between 10am and 11am. It will always be held outdoors (previously it would be held inside the Pavilhão do Lagarteiro), and free transport between Campanhã and that pavilion is no longer serviced.
 Like the programme "Days with Energy", this project also complies with preventive mandatory rules, namely limited participation to 20 people, which will then be divide into two groups of 10 participants.
Rendez-vous is the park main entrance, near the Pavilhão Municipal do Lagarteiro.
Also, this activity is not recommended to pregnant women, people over 60 years old and people with chronic illnesses.
The comeback of these two municipal wellness projects follow the DGS guidelines on the current pandemic. Thus, sharing equipment and material is forbidden and social distancing must be observed.
All activities are free, but prior registration is mandatory via email desporto@agoraporto.pt.
20 participants
Gardens of Palácio de Cristal:
9am - Pilates
10am - Yoga
11am - Tai chi
10am - Tai chi
11am- Yoga
10am - Ioga
11am - Pilates
*each Saturday there are different classes, namely Yoga, Pilates and Tai chi)
9.30am - Tai chi (next to the Edifício Transparente)
11am - De Rose Method (next to the Water Pavilion)
Between 10am and 11am (20 participants per session)