Tourism
Porto will celebrate National Day of Historic Centres with a programme filled with activities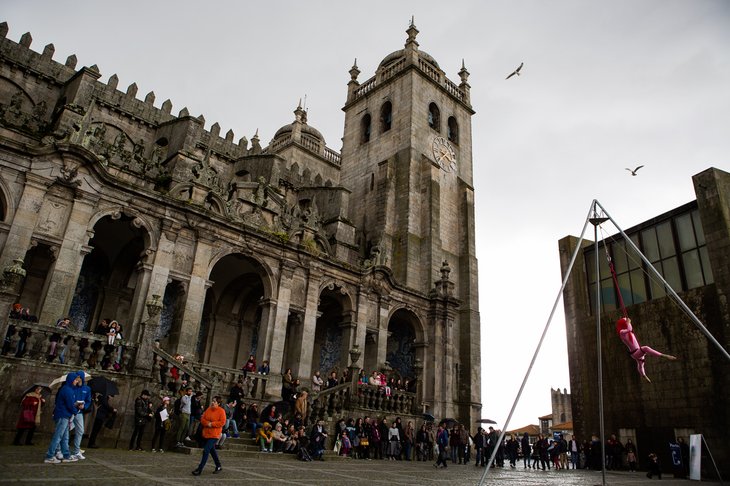 The National Day of Historic Centres (DNHC) is officially celebrated on March 28th. In Porto, the celebration is anticipated to the 25th (Saturday). A day that is expected to be full of entertainment in the city, with guided tours, exhibitions, workshops, music, theatre, and dance.
Classified as a World Heritage Site by UNESCO since 1996, the Historic Centre of Porto will be celebrating during the 25th. Activities start at 9am and last until the end of the day. Until 7pm, museums, monuments, churches, and other institutions will open their doors to the public and there will also be several outdoor walks available. The initiatives, promoted by more than 20 entities, including the City Hall, Museum of Porto and municipal company, Ágora – Culture and Sport, require prior registration, in the most part.
This year, the Museum of Porto, presents a set of workshops called "Linhas de Céu". In the Guerra Junqueiro, Port Wine and Casa do Infante museums, amongst lines, shapes and colours, visitors will be presented with a contemporary landscape of a former Porto. The workshop will be led by the Arisca Collective and is intended for children, with more than 3 years of age.
"Rabiscar o Porto – Urban Sketching" is the proposed workshop, developed by Ágora – Culture and Sport, that will take place in Clérigos and Miradouro da Vitória. The project aims to unite people, of all ages, interested in illustrating spaces of the city, in situ. In conviviality, participants will be challenged, through different materials and approaches to represent that which surrounds them. The drawing supplies, which will be available at the meeting point, is limited to 30 participants simultaneously.
Living statues honour workmanship of Porto's traditions
São Domingos square will be invaded by living statues that will honour the workmanship of Porto's tradition. A fishmonger, a fisherman, a female and male peasants will make a live portrayal of a bygone city, greeting those who pass by.
There will also be guided tours to Port Wine Museum, Casa do Infante and Guerra Junqueiro, where these museum spaces' archives can be appreciated, integrated in Museum of Porto, and outdoor tours, such as the medieval routes to Santiago.
"Do Centro Histórico para o subúrbio: A expansão do Porto" is another available option to get to know the city's historical centre. Lasting two hours, the tour aims to analyse Porto's urban sprawl, starting from its gothic wall, through the Porta do Olival, moving from the interior of the wall to the exterior (Cordoaria and the old fields of Cedofeita). The meeting point is scheduled for 10am, next to the Igreja Paroquial de Nossa Senhora da Vitória.
A day filled with music and dance
The programme, consisting of more than 50 activities, dedicates some initiatives to the younger audience and to their families. There will be a little bit of everything, including a peddy-paper. With many activities, come rain or shine, the theme is to leave the house and discover the historical centre.
The Palácio das Artes, in São Domingo square, will host several dance shows during the afternoon. In the same location, and at curtain time, trios of clarinets and trumpets, from the Curso de Música Silva Monteiro, will perform.
A special highlight will be the show "Dos 27 aos 97, as vozes do Coro do Centro Histórico do Porto". At São Domingos square, starting at 4pm, the Choir of the Historic Centre of Porto, consisting of members aged from 27 to 97 will perform its new line-up, with original songs and well-known music.