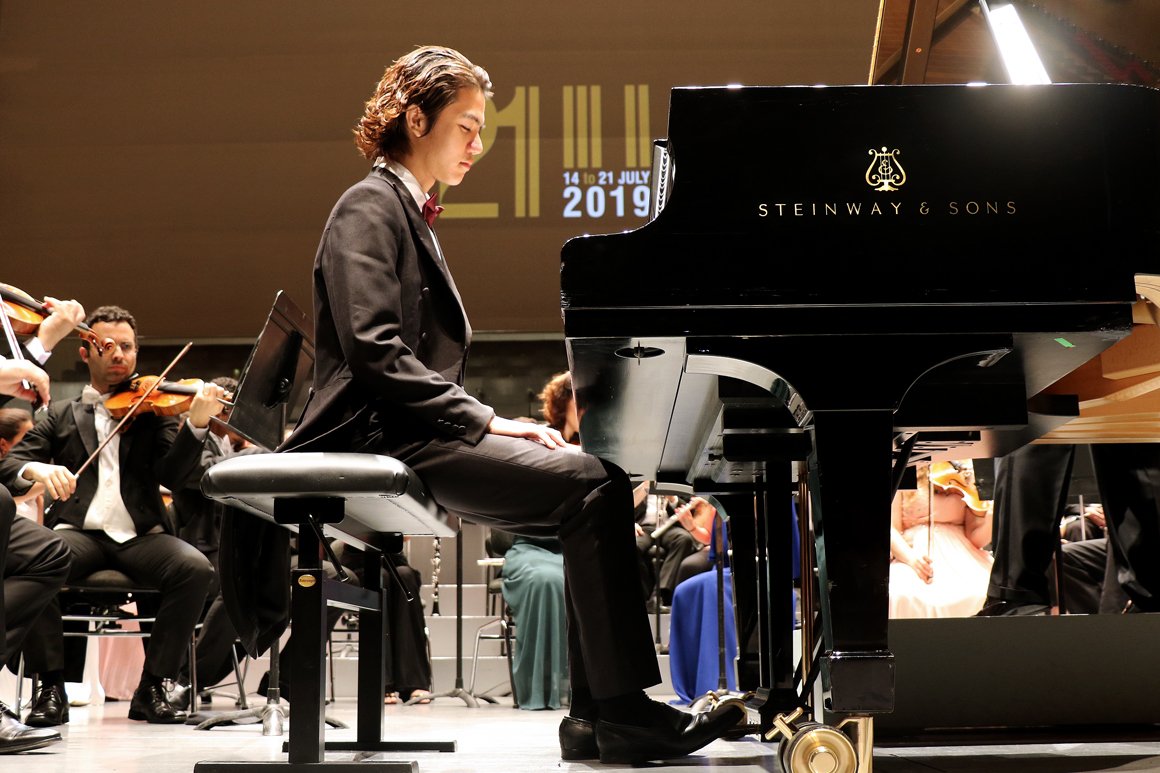 Yangyang Ruan from China wins Santa Cecília International competition
23-07-2019
The Chinese pianist Yangyang Ruan has won the Prize "Cidade do Porto" in the scope of the 21st edition of the Santa Cecília International Competition, following a concert at Casa da Música, on 21 July.
The concert included the participation of the three finalists - Philipp Scheucher (Austria), Yedam Kim (South Korea) and Yangyang Ruan (China) - and the Portuguese Philarmionic Orchestra, conducted by Maestro Osvaldo Ferreira.
Yangyang Ruan won first place in the main category and was awarded the "Prize Cidade do Porto", supported by Porto City Hall with the monetary value of 5000 euros. Ruan performed works by Frederic Chopin, Piano Concert No. 1, op. 11, for 35 minutes.
Yangyang Ruan, is from Xiamen, in China, and started studying the piano at the age of five. In 2017, he entered the Curtis Music Institute, in Philadelphia, in the United States - directed by Rufolf Serkin for many years- and pursued his studies.
Winners in the different categories also have priceless opportunities regarding positive career perspectives both at national and international level. The winner will have the opportunity to edit a CD, with the KNS Classical producer.
In addition, the winner will have the opportunity to perform at Casa da Música in the framework of cycle of recitals of Curso de Música Silva Monteiro, at Casa de Fralães, at Casa de Portugal/André Gouveia, in Paris, at Festival St. Mesnil des Arts, Moutaut de Villeréal, in France, at the Mas Brunet concerts, in France, and at the Hammerklavier concert série KNS Classical, in Barcelona.
This competition is organised by "Curso de Música Silva Monteiro" and the jury was composed by reputed national and international experts such as Álvaro Teixeira Lopes, António Oliveira, Fausto Neves, Arminda Odete Barosa, Nelly Santos Leite, from Portugal, and Akemi Alink-Yamamoto, from japan, Carles Lama, from Spain, Dorian Leljak, from Serbia/Croatia, Fu Hong, from China, Guigla Katsarava, from Georgia, and Shao Xiao Ling, from China/Portugal.
Besides Porto City Hall, the competition is sponsored by the Government of Portugal, The bank of China (Delegation in Portugal), Manuel António da Mota Foundation, Eng. º António de Almeida Foundation, KNS Classical, Sonae, BPI and Bial and J. Pinto Leitão.