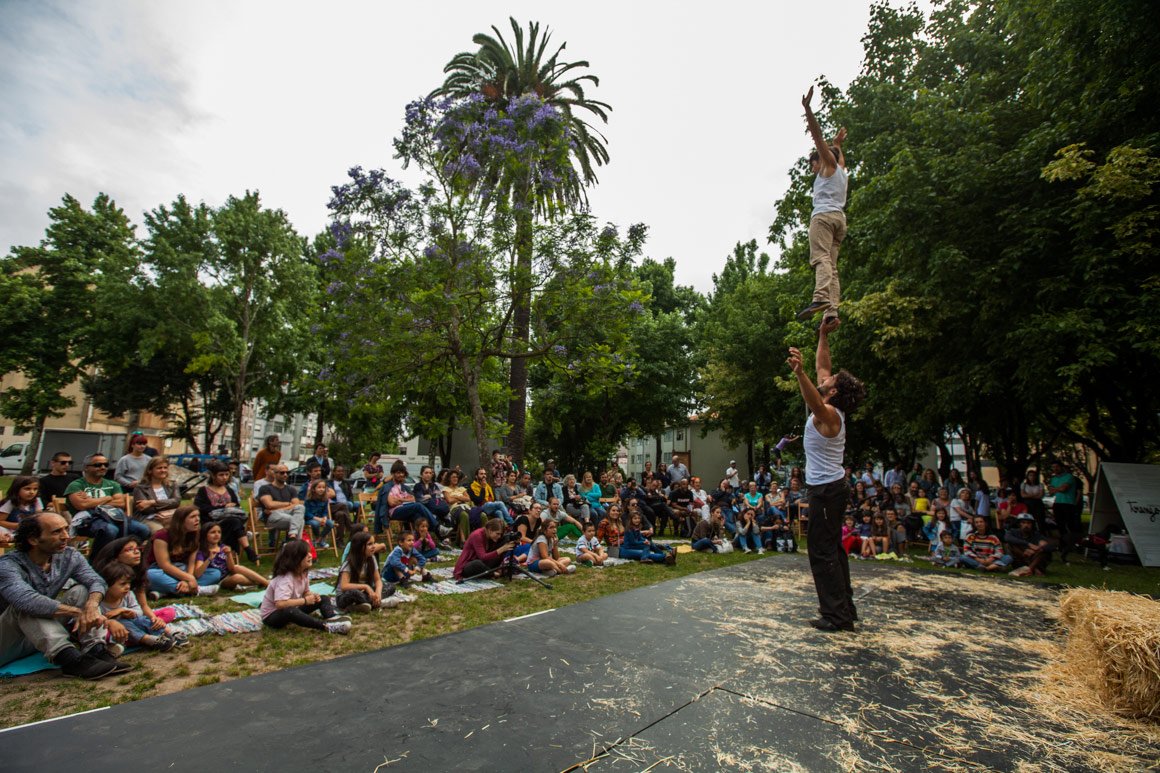 Trengo Circus Festival is back in Porto from 3 to 7 July
14-06-2019
The fourth edition of Trengo - Porto Circus Festival is back in town between 3 and 7 July, featuring 14 shows and a total of 20 performances in four venues in the city of Porto, presenting over 30 artists from eight countries.
This event is taking on greater importance with an enlarged budget and ground breaking performances that will take to the Jardim da Corujeira, in Campanhã (a premiere), the Gardens of the Palácio de Cristal (a comeback), the D. João I Square and the Municipal Theatre of Campo Alegre.

Altogether, the Trengo Festival brings 14 shows (six national premieres) and 20 presentations that will run the five days that the festival lasts. Thirty artists from eight nationalities will be in charge of "new, original and diversified shows, always accessible and presented in easily understood terms", highlighted the artistic director, Julieta Guimarães, on the occasion of the programme presentation.
The festival is organised by Erva Daninha, jointly with Porto Municipal Theatre and PortoLazer. The Trengo Circus Festival Fourth edition kicks off at 7pm on 3 July, at D. João I Square with "Sweet Drama", a performance that combines theatre, music, painting, skate and exquisite jugglers.
On 3 July, at 9pm the auditorium of Theatre Campo Alegre hosts the national premiere of "Le Vide - Essai de Cirque", by Fragan Gehlker, Alexis Auffray, & Maroussia Diaz Verbèke, a "wonderful show" that approaches "the idea of vertigo on stage", explained Tiago Guedes, Director of Porto Municipal Theatre, during the Press Conference held at Theatre Campo Alegre. The show repeats on 5 and 6 July.
The second day of the festival, on 4 July, features the balancing act "Oyun" ("Game" in Turkish), where the juggler builds an artefact while defying gravity. The act repeats the following day, at the Gardens of Palácio de Cristal.
"Calor" is the national premiere on 5 and 6 July, at the Gardens of Palácio de Cristal, combining clowns and other circus artists.
Also, there is the national premiere of "78 Tours", by the French duo Thibaut Bringnier and Mathieu Lagaillarde, a traditional circus act at D. João I Square, on 6 and 7 July, a "wheel of death", brought to audiences in a contemporary language and featuring live music.
On 6 July, starting at 5pm, the festival presents the national premiere of "Gravitas", by the Israeli Ofir Yudilevitch, at the Gardens of Palácio de Cristal. The show explores different relations with one of the most powerful force of nature - gravity.
These are but some highlights of the Trengo Circus Festival in Porto; there are also workshops, backstage visits, open rehearsals, philosophical cafés or the closing party set for 6 July at the Rivoli Café.
All performances are for children over three years and are entrance free, except the "Le Vide - Essai de Cirque" performance, which is for children over six years and the entrance ticket is paid.
Click
here
 for full information on the programme.