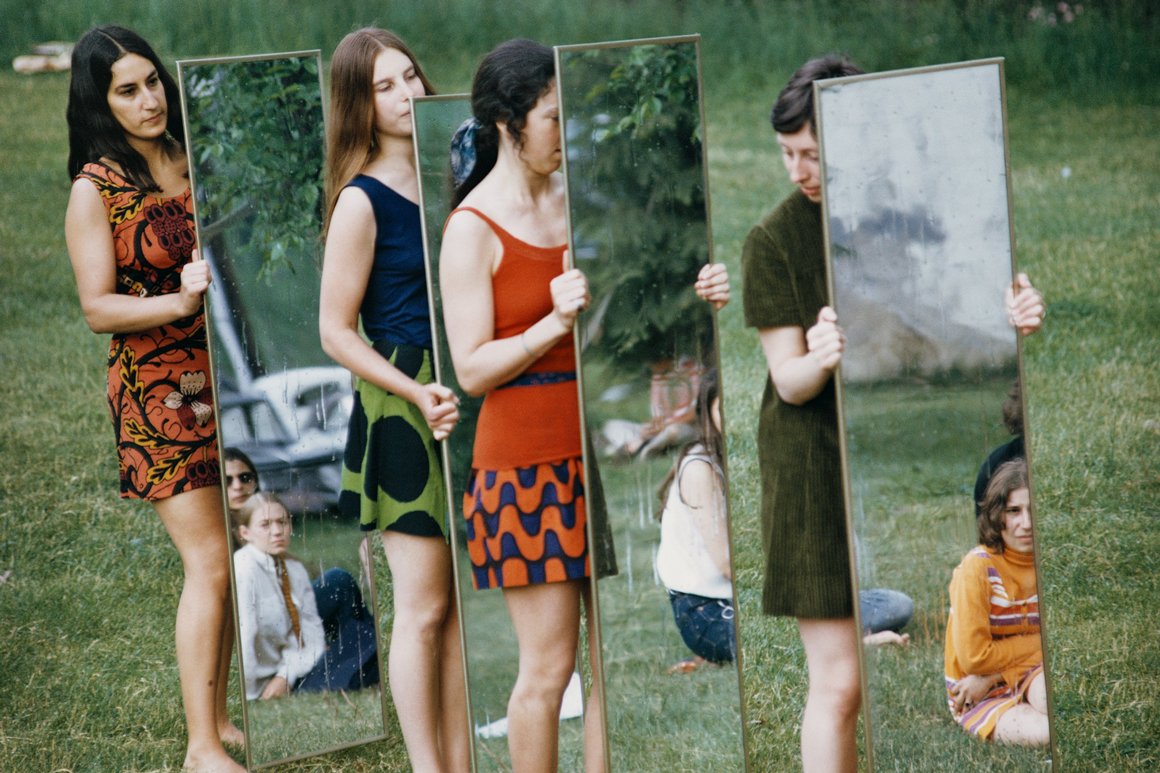 Joan Jonas, the true original impact in the world of video and performance at Serralves
22-05-2019
Together with the "Joan Jonas" exhibition, at the Serralves Museum, the Performing Arts Service presents the remake of the plays "Mirror Check" (1970) and "Mirror Piece I & II: Reconstruction (1969/2018-19)", at the Serralves Park, Library and Auditorium, in the context of the opening of the 16th Edition of Serralves em Festa.
The inception of Joan Jonas artistic journey takes back to the mid-1960s. For years, she built a name and became a reference on dance, modern theatre and the way and tradition of Noh and Kabuki Japanese theatre with visual arts.
Her investigations on art and culture, regarding both objectivity and subjectivity are translated into her own vocabulary, of personal and idiosyncratic nature. Joan frequently uses props, like masks, veils or traditional clothing, and mediated images during her performances.
Jonas has performed for some of the most influential artists of her generation, back in the seventies and the eighties, including Richard Serra, Robert Smithson, Dan Graham and Laurie Anderson. She is widely known in Europe, but lesser known in the United States.
Her influences also extended to conceptual art, theatre, performance art and other visual media. She lives and works in New York and Nova Scotia, Canada.
The remake and presentation of the "Mirror Piece I & II" and "Mirror Check" in the Serralves Contemporary Art Museum is carried out by Joan Jonas with Nefeli Skarma.
"Mirror Check" is performed by Catarina Marcos and "Mirror Piece I & II" is interpreted by Catarina Marcos, Catarina Vilar Marques, Diana Oliveira Vieira, Douglas Melo, Guilherme de Sousa, Helena Martos, Jessica Guez, Josefa Pereira da Silva, Leonor Mendes, Liliana Oliveira, Magda Almeida, Sancha Meca Castro, Sara Santervás, Teresa Queirós and Valentina Parravicini.
"Mirror Piece I & II" was first presented during the exhibition "BMW Tate Live Exhibition: Ten Days Six Nights", curated by Catherine Wood, Senior Art Curator of International Art (Performance), Isabelle Maidment, Performing Assistant Curator, and Andrea Lissoni, Senior International Art Curator (Film), from 16 to 25 May, in 2018, at the Tate Modern.
Prior to the performances, Joan Jonas will hold a Talk with Andrea Lissoni, Senior International Art Curator at the Tate Modern, in London.
Tickets: 7.50€ (access to performances and to the Talk)
Friends of Serralves, Students, Youth card and over 65 years olds: 3.75€
Capacity: 120 persons
Click
here
for further information.