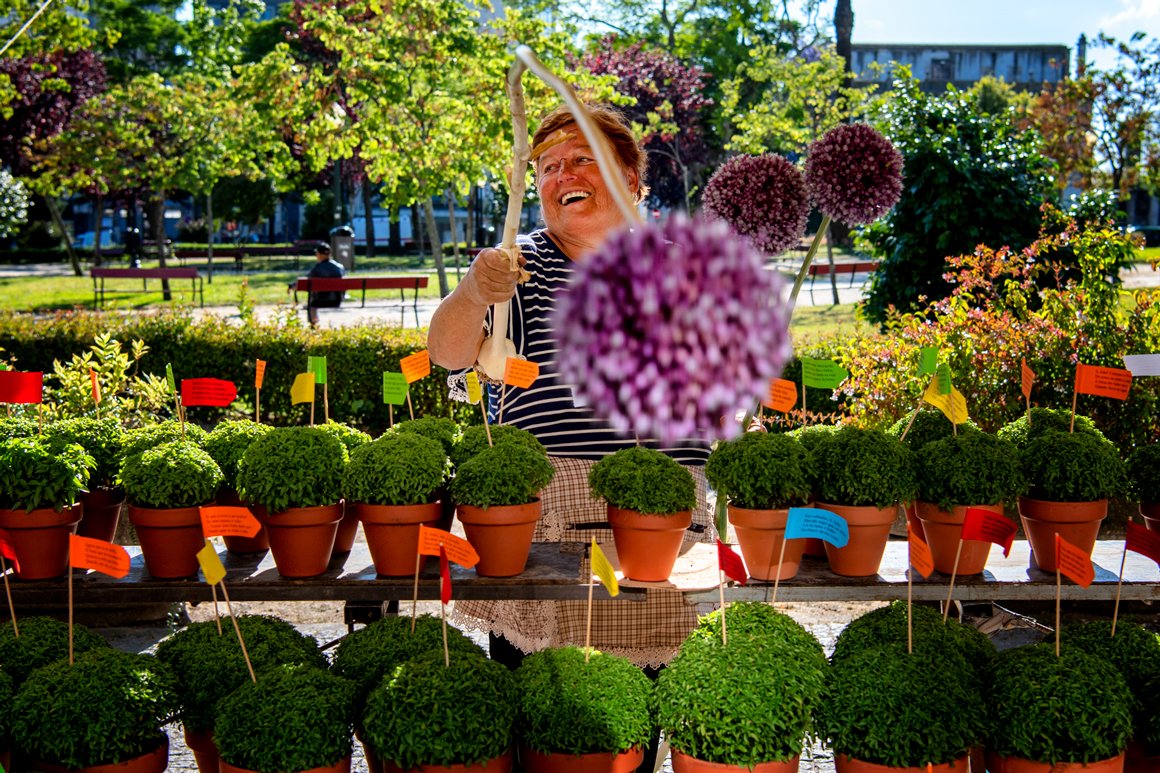 Authorized São João basil bushes sales. Interested parties should apply to regular selling spots till 12th June
04-06-2020
The Municipality of Porto intends to keep the traditional São João basil bush sale alive (aka manjerico), very much like any normal year of celebration of the patron saint of the city. 
This is doable because of the favourable numbers regarding the fight of the new coronavirus, and also due to the fact that this activity does not jeopardise public health and safety, following the rules stated by the Municipality and available for consultation at the institutional website of Porto City Hall.
Applications for selling spots run till 12th June and must be submitted at the Townsman Office, upon prior appointment. After the drawing, set for 15th June, the sale will be authorized from 16h to 30th June.
Applications must be submitted at the Townsman Office till 12th June, within five working days, and each seller can apply to a maximum of three spots. However, and due to the current pandemic, customer service must follow prior appointment, via phone service 222 090 400, available from Monday to Friday, between 9am and 5pm.
The form is available online, at the Balcão de Atendimento Virtual, spacer "Formulários", letter "V", "Venda ambulante de caráter esporádico - Festividade do S. João", or face to face, at the Townsman Office, according to the above mentioned rules.
The draw is held on 15th June at 9.30am, at the headquarters of the Porto Municipal Police.
Available spots to selling São João basil bushes:
- Praça do Marquês - 1 spot
- Rua S. Filipe de Nery - 2 spots
- Rua das Carmelitas - 1 spot
- Rua de Júlio Dinis - 3 spots
- Alameda das Fontainhas - 3 spots
- Avenida de D. Carlos I (Passeio Alegre) - 3 spots
- Campo Mártires da Pátria - 1 spot
- Largo da Igreja de Paranhos - 1 spot
- Largo António Cálem - 4 spots
- Praça da Batalha - 3 spots
- Praça da República - 4 spots
- Praça Nove de Abril - 1 spot
- Praça do Exército Libertador - 1 spot
- Estação de S. Bento - 2 spots
It is worth recalling that in the beginning of April, the Mayor of Porto ordered the cancellation of the municipal organization of the São João Feast, as large gatherings endanger public health during the ongoing pandemic.
And just last week, during a press conference on the plans for winning public spaces in Porto, Rui Moreira clarified that despite the fact that the Municipality does not organize the traditional São João fireworks (as the cities of Braga and Lisbon, for example, did), people are free to celebrate the date, if they wish, by assembling in small groups or strolling through the city.